Camino
Tapas in Shoreditch
Camino offers amazing tapas in Shoreditch with alfresco seating outside the front of the restaurant. In this weather, it almost feels you are in Spain!
The inspiration for Camino came from a life changing road trip around Spain in the summer of 1984! Since then the Camino team have made numerous journeys travelling all over Spain bringing fresh ideas and ingredients to London.
The executive chef, Nacho del Campo uses ingredients sourced from Spain to create and bold and exciting menu at Camino. The restaurant has grown in popularitiy and now has branches in Bank, Monumnet, King's Cross and Shoreditch.
The Cocktails
We were super excited to try Camino's Frozen G&T's! They are served with frozen Beefeater London Dry Gin and Jack Rudy Tonic syrup. You can enjoy it on its own or add a homemade botanical syrup! We opted for one with Seville Orange and one with Strawberry and Pink Peppercorn. They were pretty amazing – my own criticism is I wanted more in my glass!
The Watermelon Mojito was similarly impressive with Havana white rum, fresh watermelon, watermelon syrup, mint leaves and lime. Very refreshing for this warm weather.
The tapas selection
Depending on how hungry you are, we recommend 3 tapas dishes per person. There is a fantastic selection of meat, fish and vegetarian options and obviously it is all for sharing. I love how sharing plates are sent to your table when they are ready. It keeps the food hotter and allows the stomach to warm up!
Meat dishes
Meat wise we had the Jamon Iberico Cebo (free range, grain fed and air cured for 30 months at £9.75) which was served with small toasted slices of bread. You could taste how fresh the meat was and it was rather moreish. The Iberico meatballs were cooked in rich tomato and red pepper sauce (£6.75) and were well seasoned and flavoured. The winning meat dish for us were the Croquetas de Jamon (£5) which were packed with creamy filling. They were spectacular!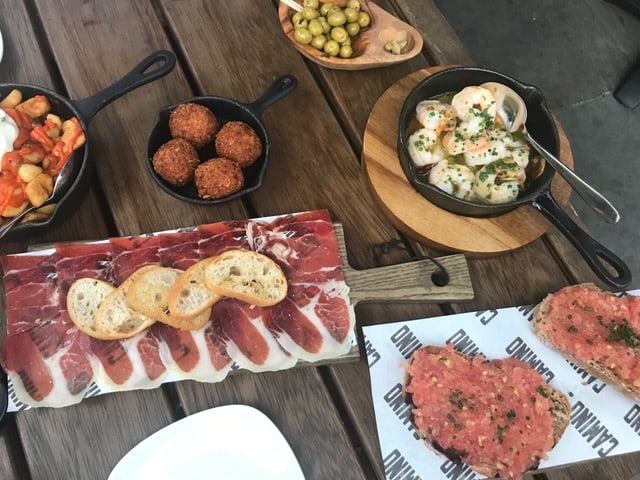 Fish and Vegetarian
We tried the Baby Squid with alioli and lemon (£7) and the Gambas Ajillio: Prawns with garlic, chilli and white wine (£9.75). The sauce accompanying the prawns was delicious but obviously rather garlicky! Lastly, we had a very generous portion of Patatas Bravas with brava sauce and alioli (£4.75). They were delicious crispy potatoes with two fantastic sauces. The Tomato Bread with garlic, extra virgin olive oil and Maldon sea salt were winners for us too. The salt and oil was just so addictive!

Overall
Camino serves amazing tapas in Shoreditch with friendly staff and lovely surroundings. This has definitely become one of my favourite tapas restaurants in London! Look out for bottomless Saturday's with UNLIMITED G&T's, frozen G&T's or cava for only £20pp when you spend £20 each on Tapas. This sounds like a LOT of fun!
 East London Girl: Camino
Click Here for other restaurants in East London